Learn to Style Your Maternity Outfits the Royal Way
Maternity Glam Inspiration from the Duchess of Cambridge Maternity Fashion Style – Learn to Style Your Maternity Outfits the Royal Way
The world is still in a frenzy. Prince Harry and Meghan Markle just got hitched, making everyone and their mommas glued to their TV screens to witness the royal wedding in its full glory. Talking about the new additions in the royal family, Prince Williams and Duchess Kate Middleton just welcomed a new bundle of joy in their family – the precious little Prince Louis of Cambridge!
The Duchess of Cambridge is an epitome of elegance, class and grace when it comes to her sense of styling. No wonder, the current generation is wonderstruck with what the fashion magazines call "A Kate Middleton Effect". Kate's maternity fashion outfits were no different. During all her (well, three in total) pregnancies she maintained a poised, posed and polished look.
Here are some of our favorite maternity glam fashion moments from Kate Middleton's wardrobe; you can for sure find something similar to rock your pregnancy outfits:
A Seraphine Marlene Maternity Cocktail Dress in Blue
If you are looking for a soft glam look for an evening, something along the lines of this Seraphine Marlene Cocktail Dress in Blue would be perfect. The duchess wore it on many occasions during her pregnancy, most notably to a royal trip to Norway with Prince Williams.
The bodice is made up of comfy woven material with lace accents to give it a soft glam look; the A-line cut of loose flowy skirt is perfect for when you're just entering your second trimester and want to dress up your bump. This would be perfect for weddings or formal night events.
Sleek and Chic, Dressed up by a Coat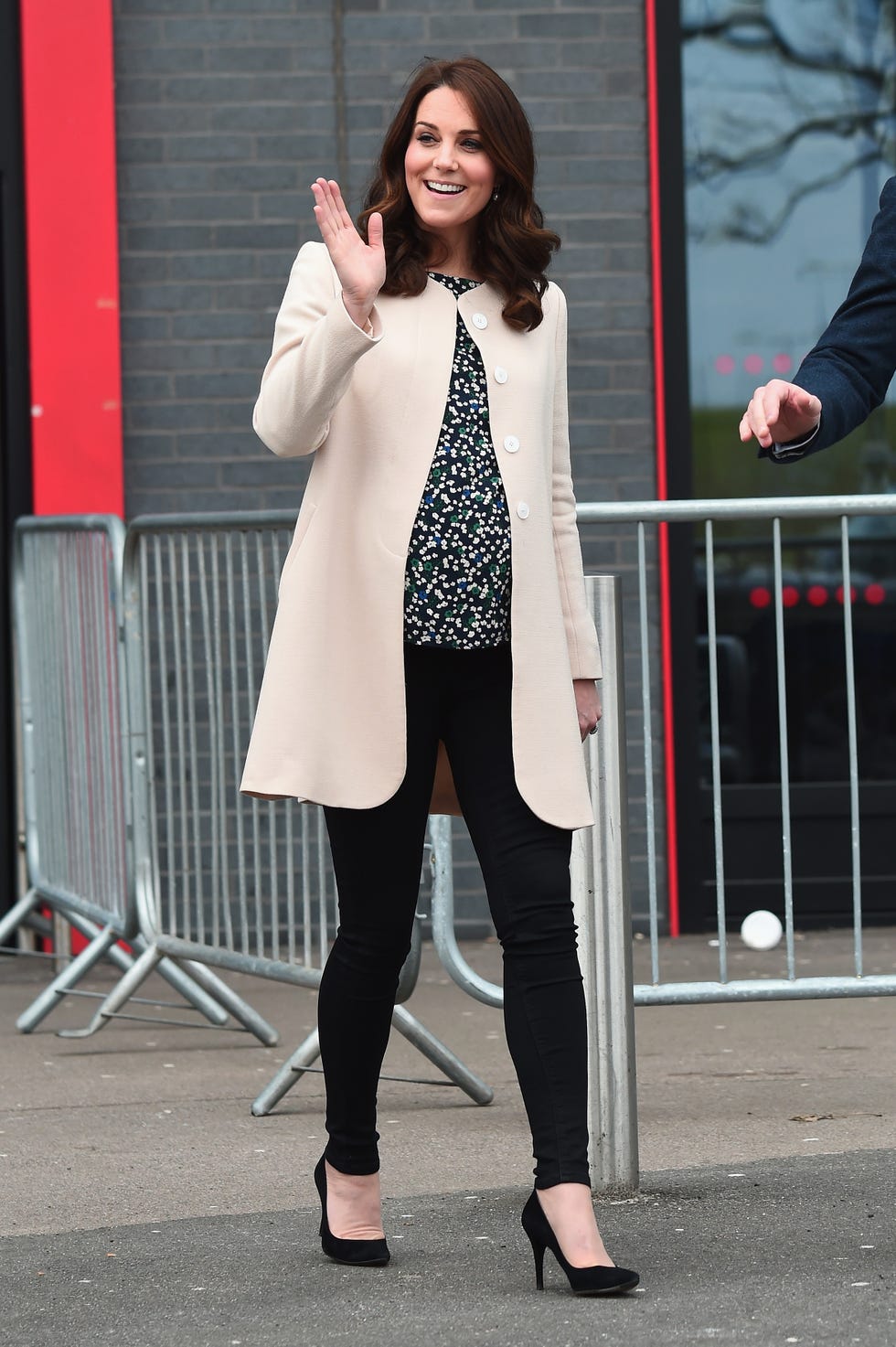 On numerous occasions, Kate has chosen nice sleek and chic dresses – the ones that not only look good but also feel comfortable to roam around in. Get yourself a nice pair of black maternity pants. You can pair it with a number of different loose, flowy tops to create a plethora of outfit combos. We adore how Kate paired her black slim-fit pants with a floral top here. Add a chic cream or beige coat on top for a dressed up look.
A Floral Printed Knee-length Dress
Seraphine's maternity dresses, clearly, are Kate's favorite. She wore an aqua blue floral knee-length dress to a children event. The curved empire line accentuates the waist in a flattering way while the skirt drops down loosely for an easy navigation. Pair with heels for an elegant glamorous look or with boots for a cheeky urban fashion style.
---